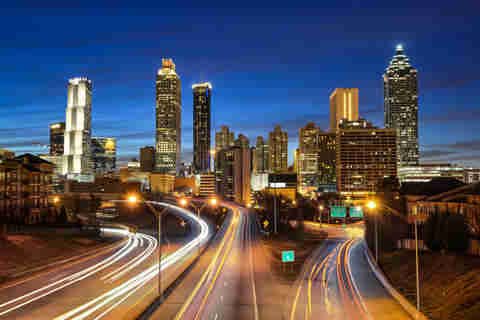 One of the biggest and busiest cities in the entire United States, there are plenty of exciting events going on in Atlanta each and every day. If you happen to live in or around Atlanta and you work in the design world, you know just how wonderful this vibrant city can be. Buying wholesale glass vases for Atlanta events can be challenging – until you settle on ZX Décor as your supplier for all of your design needs. With a selection of glass vases in addition to wooden items, ceramics, and more, ZX Décor has everything you could possibly need to create a beautiful design either indoors or out.
There are many great things about throwing parties and other events in Atlanta, but one of the best is being able to host events outdoors as well as inside. The weather throughout much of the year is suitable to outdoor parties, no matter if those occasions are wedding receptions, graduation parties, birthday parties, or other celebrations. No party is complete without at least some level of design and décor, so the wholesale glass vases for your Atlanta event should be ordered well in advance of the date. Our inventory includes many different shapes and sizes of glass vases so you can pick from a wide selection in order to settle on exactly what you need.
Flowers on Display
Wholesale glass vases in Atlanta are important because you want to be able to display beautiful flowers throughout your upcoming event. Flowers are a staple at nearly every hosted event, as they bring life and color into a room quickly and easily. Of course, you can't just lay the flowers on the table, so glass vases are the perfect vehicle to display these pieces of nature that you have brought into your design. Tall and slender vases are great for roses and other long-stemmed flowers, while other species do better in short and wide vessels. Think carefully about which flowers you are going to use as part of your display and order glass vases to match. Or, simply order a selection of different shapes and sizes so you will be prepared to display any kind of flower that may come to mind – even at the last minute.
Accent Pieces Are Important
While glass vases make for a great focal point within a display, they aren't the only item that you will want to use to create your overall design. Fortunately, there is more than just glass offered here at ZX Décor. If you take a look around our site, you will find plenty of other options that you can incorporate to mix up the feel of the room. Texture is an important part of design and something like wood or ceramic can go a long way to break up the appearance that an all-glass display would present.
Before your next big event, make sure to order the best wholesale glass vases Atlanta has to offer from right here at ZX Décor. Our site has been designed so that it is easy for you to find everything you need all in one place. If you are having trouble locating a specific piece, however, please contact us and we will be happy to assist. Thank you for stopping by!